Ok, pondering if I should buy a new Icom IC-7700 or not. Is this something a lowly Tech like myself can really use? I bought the Icom 746Pro prior to getting my Tech since using it fully required at minimum a Tech license. Here is a snapshot of the awesome 7700.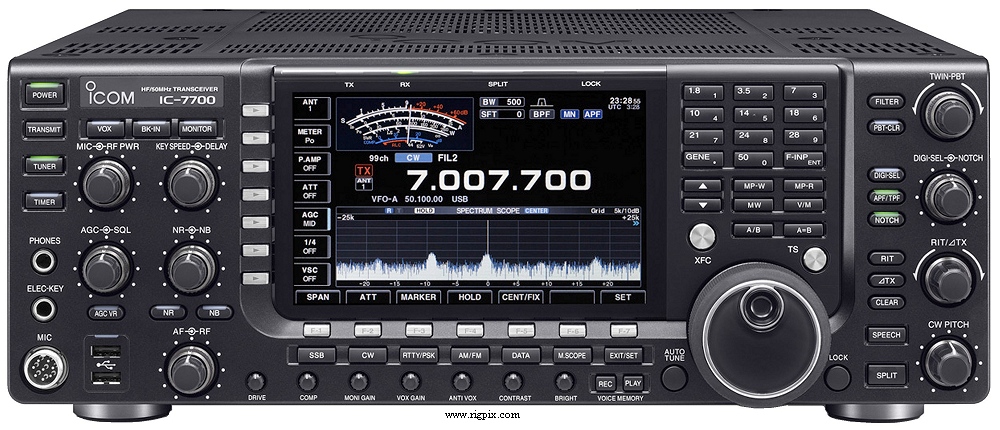 I figure my goal of being an Extra class licensee by the end of this year is reason enough to upgrade to this radio and use the 746Pro for 2m and for general RX on the bands since the 7700 lacks dual receive. Why not go 7800 or Yaesu 9000? I like the big Yaesu's, don't get me wrong but they are as expensive as the 7700 and 7800. The 7800 is almost twice as much as the 7700 and I already have the 746Pro so can't see spending another 5k for dual receive, ok, there is other things about the 7800 as well but come on, $11,000 to buy one?? WOW!!!
So, the question remains, to buy or not to buy... gut says yes, the Supercharged Mustang GT costing me big money in the garage says no way. The XYL says, sell the Mustang and buy any radio you want, but we both know you can't do both, not at this cost level. She is right, dammit they always are!! So, do I sell the Mustang, that I love and have waited for but costs much more to run that any Ham radio, even an expensive Ham radio?
I'll be honest, this is the place for that right? I love my Mustang, really, that car is something special. However I cannot afford to do to that car to take it to the next level and I won't be happy with it unless I take it to the next level, status quo ain't for me. I think I may just sell the 505hp fast as all hell Mustang GT to up the ante in Ham Radio. I enjoy the technical aspect of radio, it makes me think and frankly makes me feel pretty smart at times. :)
Driving the 505hp Mustang makes one feel powerful, fast and free, when I drive that car it feels like an extension of me. More so than any car I have ever owned BUT I know I can't have both, well, truth be told I could, if I take myself further into debt I could do both but who needs more debt, just not smart right, nope, sure isn't.
So, know anybody who wants a mint condition 2006 505hp Mustang GT? Contact me, we'll discuss price. I'm going to have a drink now, that car has been good to me.