We have had a lot of work done to the rig that we didn't expect exterior wise because of damage incurred while in storage. So the front of the rig looks like brand new but the sides are dull and the rear cap and the top of the front cap are real dull and chalky. There is a product out there called Red Max and it creates an acrylic shield on fiberglass and other surfaces. A lot of people have used it with overwhelming success on their sun/weather beaten RV's.
            Before, chalky and dull                 After, very shiny and looks new!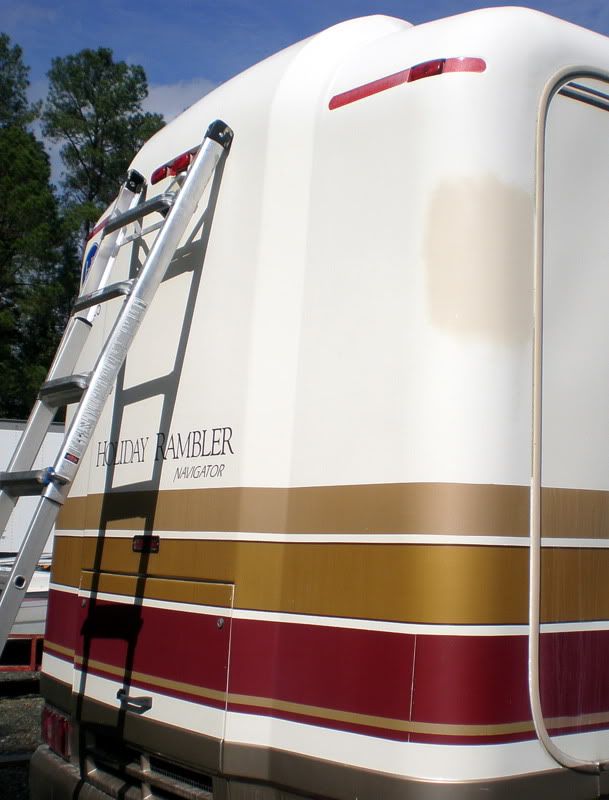 Take a look at the left picture, aside from the one spot that's obvious the rest looks just plain dull and weathered, even the stripes. The picture on the right shows everything, including the stripes to be shiney and looking new. The owner was unable to get rid of that square dull spot but he did get it to shine.
Anyway, this is what I'm going to do when I figure out how and where the heck I can work on it for an entire weekend. I also plan on cleaning the roof, right now the rig looks disgusting, chalky lines everywhere, black water lines from the new windshield gaskets staining the sides and front of the coach. It's embarrassing to look at. So I hope to get this done very soon, preferably before our July 4th camping trip which will celebrate our 1 year anniversary owning this RV. We hope to camp from 6/29 to July 4th at Sugar Shores, we were hoping to go to Geneseo like last year but this year will have a lot more family around so we want to be around them. We'll save a Geneseo trip for later in July or August.
That's all for now!